The Pilot
Benjamin GARAVEL:
A pilot career ready to take off
Since I was a child, I've always dreamt of becoming a pilot and I've always been attracted to aviation. Living next to an airport, I grew up watching airplanes flying over my house and I always told myself that one day, I would be the pilot.
When I was 17 years old, I started my pilot career with a glider pilot course before starting my difficult and long pilot training to become an airline pilot.
For a better understanding, here are the different steps of my pilot training:
Step 1:

Glider Pilot Licence
During winter 2007, I did my training with CSVVA, a large glider school based in Chambéry Challes-les-Eaux. I did my first flights as a student glider pilot because they told me that to start flying with a glider gives you the most precise basis for piloting.
On May 7th 2008, after 13h of flight with an instructor, I flew alone for the first time… a moment I will never forget.
On September 21st 2008, after 30h of training, I passed my glider pilot licence. From that moment, I was officially a glider pilot. Of course, I wanted to keep working on my pilot career, which is why I decided to start doing an airplane pilot training.
Step 2:

Private Pilot Licence (PPL)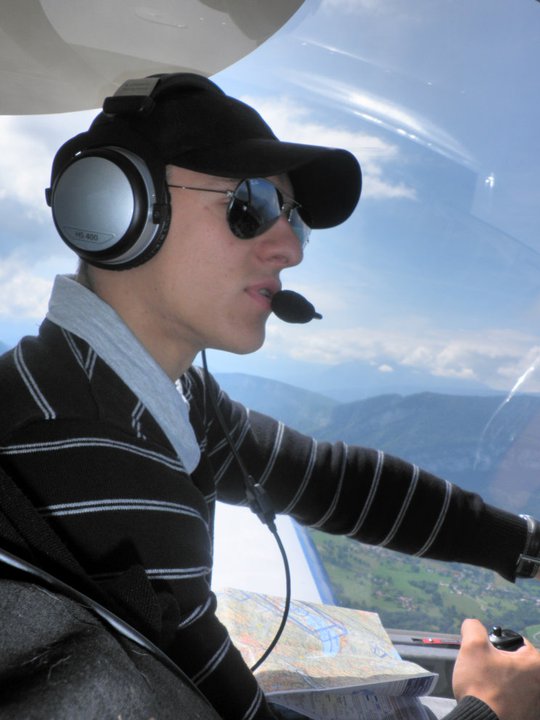 The PPL is the very first licence a pilot can obtain and it's mandatory for becoming an airline pilot. With this licence, you can fly as a captain, take passengers and navigate everywhere, without getting paid.
Very motivated, I started my training at the beginning of 2009 in the most experienced flying club of Chambéry Challes-les-Eaux: Les Amis du CLAP 73. I did my flight training with a DR400-160, a single engine piston airplane. My instructor, Jean Camille PLANTIER, has a lot of flight experience with more than 10.000 flying hours.
On March 30th 2009, after only 6h50 of flight time with my instructor, I flew alone! I was so happy that I didn't realize I had just taken off and landed the plane alone by myself.
On June 17th 2009, I passed the theory of the Private Pilot Licence
On February 9th 2011, I passed the skill test of the Private Pilot Licence.
Here is how my PPL skill test was:
First of all, my PPL skill test was very special because of the bad weather. Indeed, I had to cancel my flight eight times between October 2010 and February 2011. But on the 9th of February 2011, the weather was better and I could finally do my skill test.
After a take-off from Chambéry Challes-les-Eaux, I flew a while "On-Top" (which means above the clouds). I arrived at Saint-Etienne where I performed a touch-and-go, and I headed to the airport of Mâcon. On Cruise, my examiner, Pierre FRECHOU, told me to perform a deviation, I decided to take a new heading to the airport of Feurs.
Arriving over Feurs, I couldn't land because of the clouds hovering just over the airport. My examiner told me to head to the airport of Chambéry Savoie Mont-Blanc. After a nice landing at this airport, I took off and finished the test by doing various exercises: stall, turns, engine failure, landing flapless…
The skill test ended with a debriefing where I found out that I passed my skill test. I was officially a private pilot!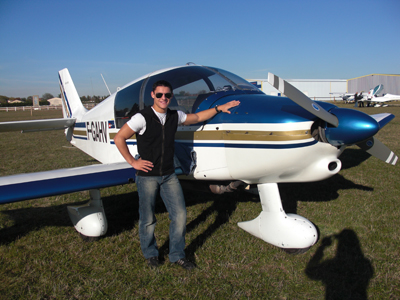 Step 3:

Night Rating
After my PPL, I continued my pilot training with the flying club of Savoie, based at the airport of Chambéry Savoie Mont Blanc, to obtain my Night Rating and be able to fly at night.
My instructor was Quentin CROZET. I started by flying some traffic pattern (at night of course). Then I flew alone to perform again traffic pattern as a pilot in command.
After this, we did four navigations from Chambéry to Valence, to Saint-Etienne, to Lyon-Bron and to Bourg-en-Bresse. I finished my night rating training by doing a test flight with the chief instructor, Sébastien LELEUX. He told me just after the flight that I passed the test: I officially got my Night Rating.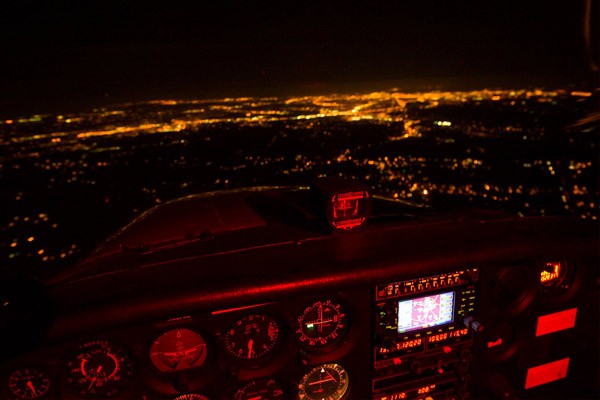 Step 4:

medical certificate class 1
Before continuing my pilot training (which is very expensive), I needed to know if I could obtain my medical class 1 to be a professional pilot.
On November 14th 2013, I went to the medical centre for pilots, in Toulouse, to get my medical certificate class 1 with all the initial tests.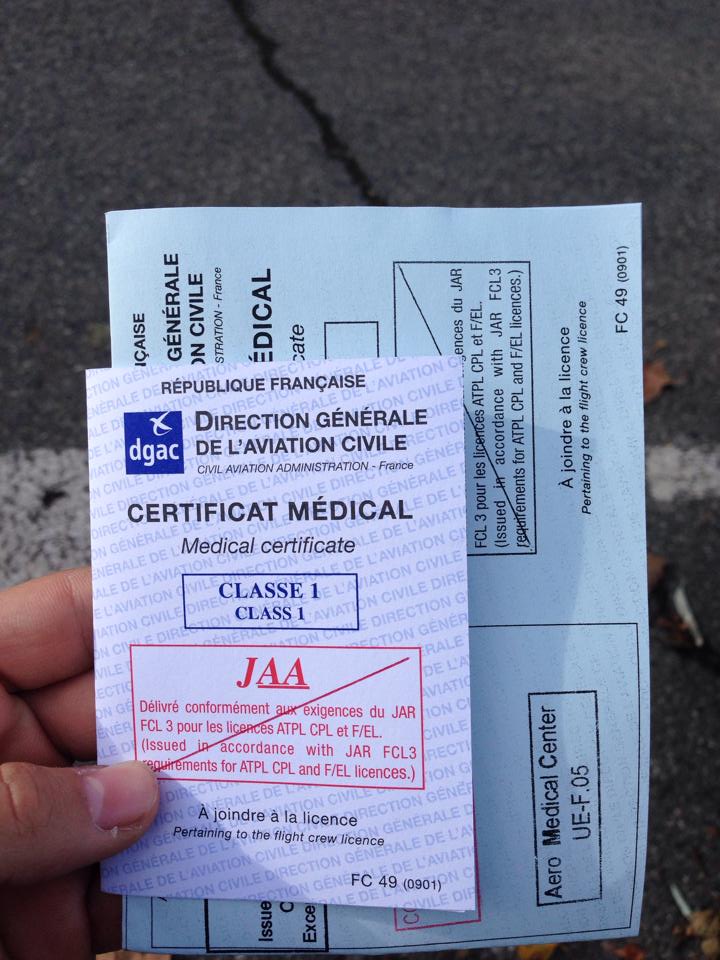 After arriving there at 7h50, I walked from the airport for 1km and entered the medical centre. Here is what I did for 4h to get my medical class 1:
8h15: I had to fill out a form with general questions about myself.
Then they called me and took a photo of my eyes. I did a first test to analyse my vision range (I just had to look at a point and click on the button when I could see a light appearing).
After, they took my blood and urine for analyses.
Then, I had to be examined by the ENT specialist who did some tests. He checked the pressure of my ears, and I did a hearing test (I had to wear a headset and I have to click on a button each time I heard a noise). After that, the doctor informed me that I had passed the ENT examination. That was good news but it wasn't finished.
I went back to sit, and they called me to have breakfast (really good news because I hadn't eaten until then).
After, I did an electrocardiogram and a test of my capacity to blow out air: I just had to blow out the maximum I could inside a machine.
Then the general doctor called me, he asked me several questions about my life, he weighed me, took my height, blood pressure and listened to my heart. He checked my whole body and the cherry on the pie: he even checked my private parts…! Everything was fine, good!
After all these tests, I had the final test for my vision, the most important. The doctor called me and I started several tests: check the visual acuity on each eye, read a very small text, check 3D vision, do a colour test, check the pressure resistance and reaction of my eyes to the light, and he finished by examining each of my eyes very closely. Anyway, a lot of tests for vision. He told me that my eyes were fine. I can tell you at that moment I was very happy and could finally breathe.
To finish, the main doctor called me in his office and told me that I got my medical certificate class 1.
I went out of the medical centre at 12h with a big smile, a huge amount of stress gone but especially with even more motivation to continue my dream to become an airline pilot.
Step 5:

Airline Transport Pilot Licence Theory (ATPL)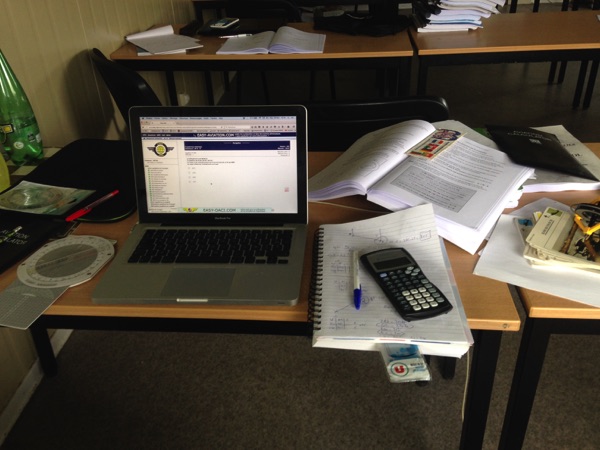 Now that I can become a professional pilot, I can continue my pilot training with the most difficult part: passing the 14 exams of the ATPL theory. We have to answer 75% of good answer in each exam. We can make it in 6 sessions maximum, 4 attempts maximum per exams and validate every exam within 18 months from the first session.
I did this training part with IFAM Montpellier in distance, which means my school sent me all the documents and books and I had to study home the next 14 certificates:
010: Air Law
021: Airframe, Systems, Electrics, Power Plant
022: Instrumentation
031: Mass & Balance
032: Performance
033: Flight Planning & Monitoring
040: Human Performance & Limitations

050: Meteorology
061: General Navigation
062: Radio Navigation
070: Operational Procedures
081: Principles of Flight
091: VFR Communications
092: IFR Communications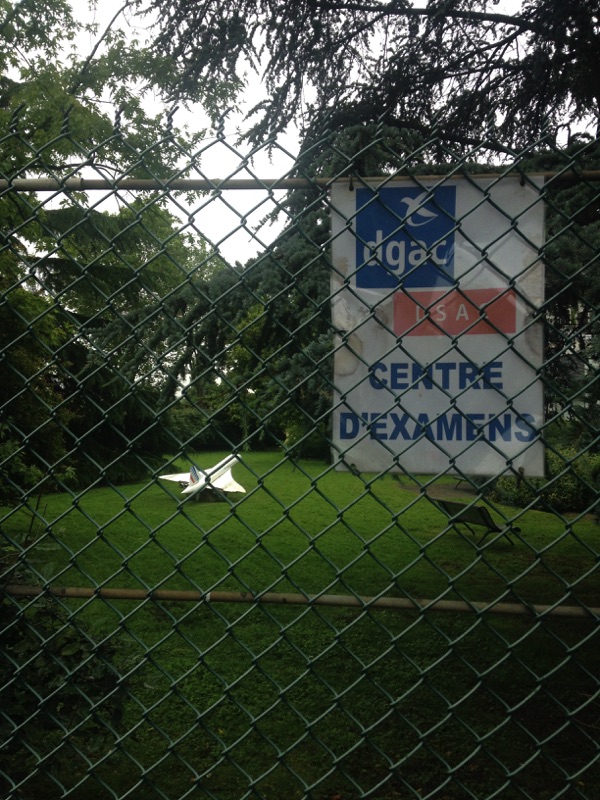 On June 21st 2016, I passed my first session with 5 certificates at the DGAC exam centre at Paris-Orly:
010 - Air Law
021 - Airframe, Systems, Electrics, Power Plant
031 - Mass & Balance
091 - VFR Communications
092 - IFR Communications
It was very stressful because I didn't know how it would be exactly. Once the first exam over, I went out of the exam room and a person gave me directly the result: no score but just if it's passed or failed! When she told me I passed it, I was very happy and I could continue during all the day my 4 others certificates. I passed them all on the first attempt.
On November 22nd 2016, I went back to this exam centre to give three more certificates:
022 - Instrumentation
081 - Principles of Flight
032 - Performance
Once again, I passed them all on the first attempt.
On March 28th and 29th 2017, for my third session, I gave another three certificates:
040 - Human Performance & Limitations
050 - Meteorology
061 - General Navigation
The General Navigation was stressful for me because it was the certificate which asked me the most of reading and study time. I was very proud of myself because I passed these three exams at the first attempt also. I only had three lasts certificates to finish and get my airline transport pilot licence theory so I can tell you that I was very motivated.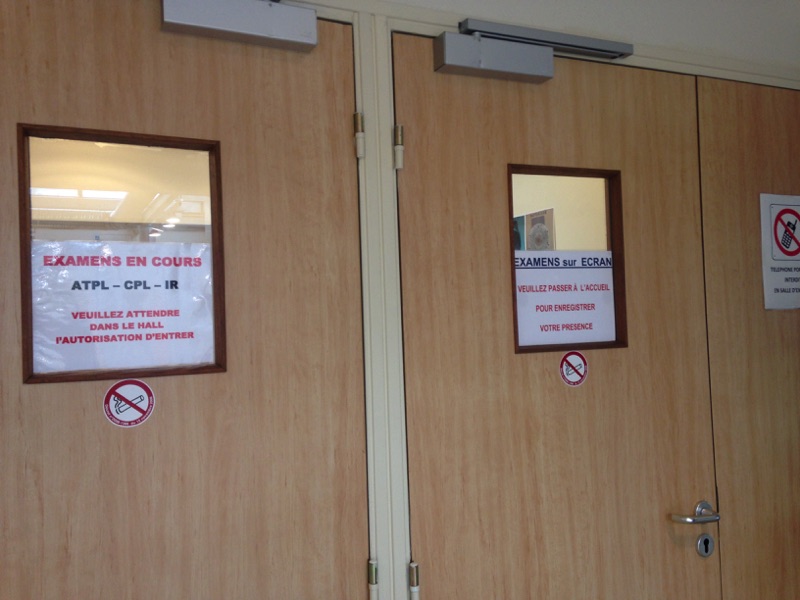 On June 13th 2017, it was the fourth time I went to the exam centre in Paris-Orly to give the last three exams :
033 - Flight Planning & Monitoring
062 - Radio Navigation
070 - Operational Procedures
I finished my last exam and the examiner told me that I passed it. At that precise moment, I just officially got my Airline Transport Pilot Licence theory after exactly 12 months, 4 exams sessions and especially all certificate passed on the first attempt! This was for sure the most relief moment of my pilot training because every pilot knows: this theory part requests a lot of hard work.
I would like to say about this pilot training chapter that we can compare it to a marathon. There is no reason to go fast, you just need to work hard your books, and train yourself with online questions. There are for sure difficult moments and some certificates more complicated than other, every pilot has his own difficulties in this training part. Just keep in mind that you want to become an airline pilot, and that the motivation to get this job with such a passion to fly, must drive you until the end of these 14 exams. I want to say thank you to my teacher Patrick CORMIER from IFAM at Montpellier, and also to the administrators of the website Easy-Atpl.
Step 6:

Commercial Pilot Licence (CPL / IR ME)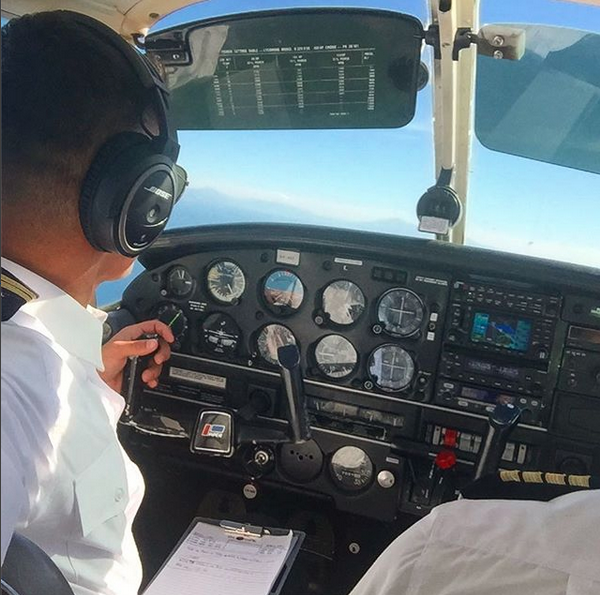 I did this pilot training part at Global Aviation SA, an Approved Training Organisation EASA (European Aviation Safety Agency), based in Greece in Athens and their Chief-Instructor is M. Varelas, a very experienced pilot.
I had to do a transfer of my French PPL to the Greek authorities so I got a Greek PPL.
On August 31st 2017, I passed my English Test Proficiency OACI and I got the Level 5 (valid for 6 years).
On November 28th 2017, I passed my Commercial Pilot Licence (CPL). For this test, I did two flights: one with the multi engine and one with the single engine.

My examiner was M. Golemis, an ancient military pilot and instructor very experienced.
We started with a briefing where he explained to me what we would do during the flight, then I filled the flight plan. After this, we went directly to the plane, firstly with the PA44-180, a twin engine piston. The flight time was 1h30, in VFR, and we did several traffic patterns with different settings (flapless, full flaps, go around...). After we did a small navigation before to perform an engine failure and others exercises. Back to Megara, the examiner told me: "Benjamin, you are a good pilot ! ". I was so happy and moreover, he was really enthusiastic about my performance.
Then we did the second flight, with the PA28-160, single engine piston. It was about the same flight than the previous one, but this time we did instruments exercises with some radial interception etc... When we finished, the examiner congratulated me for my success.
On December 3rd 2017, I passed my Instrument Rating with Multi-engine. With the PA44, I did one hour of IFR flight with the same examiner than my CPL. The flight went very well and I signed all my documents. The examiner finished by telling me: "Benjamin, you are ready to take off"!
This was a very big step in my pilot training and, that day, I officially finished my CPL IR ME.
Step 7:

Multi-Crew Cooperation (MCC)

Last step of my pilot training: this training part gives you the right skill to take the right decision during a flight with another pilot. We have to be two pilots for this training because we will learn to be the Pilot Flying but also the Pilot Monitoring.
I spent 20h in a simulator FTNTP II representing a Beechcraft King Air 200 and I learnt really good things to be able to communicate and share the tasks in the cockpit with the other pilot.
Step 8:

Jet Orientation Course (JOC)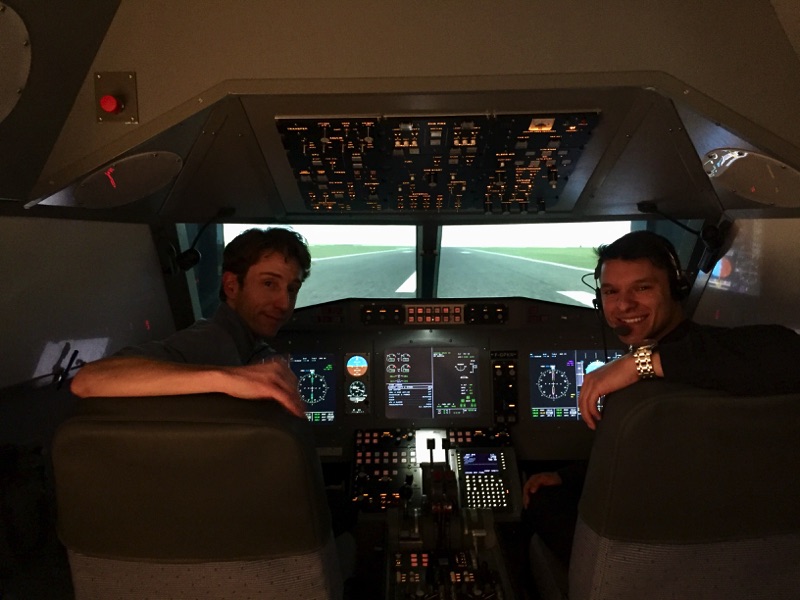 A Bonus Step in my training: the Jet Orientation Course is an advance training dedicated for future Airline pilots with no jet handling experience. It is the bridge between the General Aviation aircraft and Commercial Aviation aircraft and it's also a preparation course for airline assessment. I did this training in Montpellier (France), with MAT-FC from 8 to 10 February 2018, a very good flight school with an amazing generic simulator including the lasts systems of moderns jet aircraft. Of course, the instructor was very professional and explained me many details of how is a true flight in an airline company from A to Z.

I have now all the requirements and skills to drop myself in the big aeronautical pilot job market.
Let's do my CV, my cover letter and to get ready to succeed to find my first pilot job. After all this training, I am very motivated to be a true professional pilot in action.
Ladies and Gentlemen, I am coming with my biggest smile and my rich positivity :)!
Step 9 :

Type Rating Phenom 100/300

Once my pilot training over, I sent my CV to different company to get my first pilot job. It is the Pan Européenne Air Service, a French corporate compagny based in Chambéry, which selected me by proposing a place of first officer for their Phenom 100 and Phenom 300. They are two corporate jet made by Embraer :
The F-HSBL : Phenom 100 (5 Pax + 2 pilots)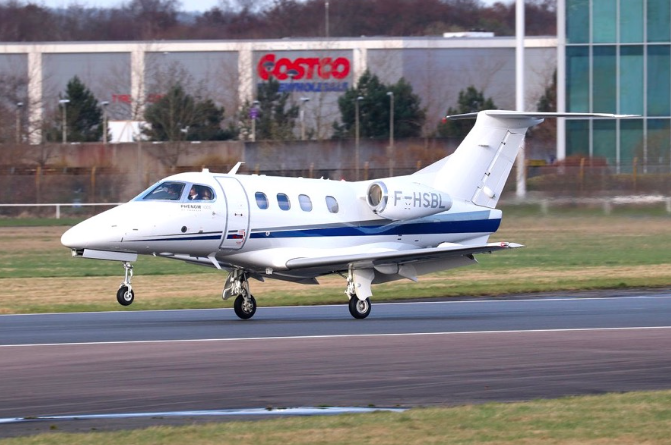 The F-HIPE : Phenom 300 (7 Pax + 2 pilots)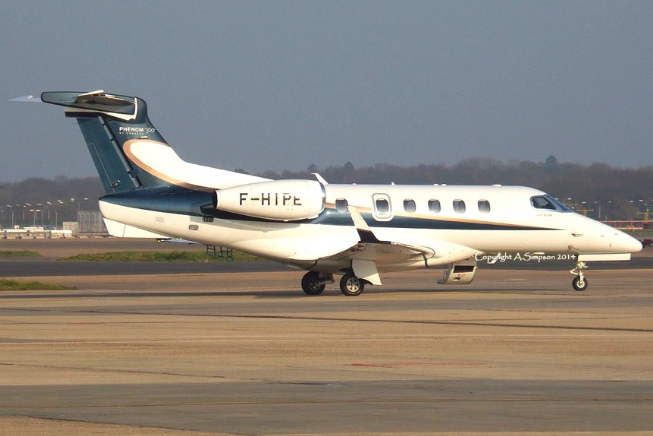 Of course, to be able to pilot these two jets, I had to learn and pass my Type Rating. I've been lucky to do it directly on their plane whereas most often, the type rating is made with a simulator. The first flight has been very impressive because there is a big difference in performance and in feeling from the piston to the reactor.
After 12h of flight time and 8 training flights, I passed my Type Rating. I'm now officially qualified to pilot these Phenom and I will start a very important part of my pilot experience : the line training. That means I will start flying with passengers, but my captain will also be qualified for line training, so I can get experience without security risk for the flights.
So let's start for real my pilot job, 10 years after my very first flight as a student pilot !